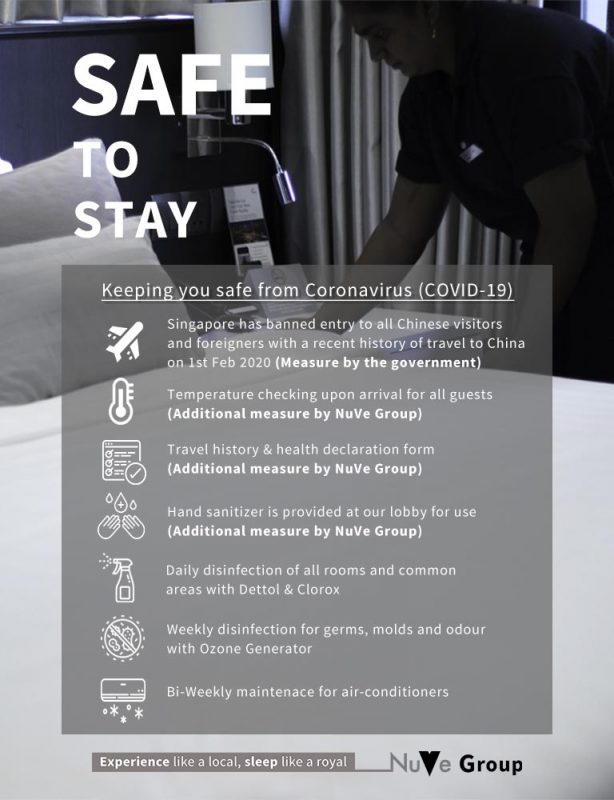 How many are currently infected with Coronavirus (COVID-19) in Singapore?
There are currently only 30 cases that are currently infected with the virus as of 27th February 2020.
Is it safe to travel to Singapore?
Yes! In the recent travel advisory from WHO, it has not stated that it is unsafe to travel to Singapore. The vast majority of coronavirus (COVID-19) cases are in mainland China.
In Singapore, most of the cases are linked to previously established clusters. Close contacts of infected have also been quarantined. The Singapore government has already banned entry to all Chinese visitors and foreigners with a recent history of travel to China on 1st February 2020. Singapore residents and long-term pass holders returning from mainland China are quarantined.
Update (4th March 2020): Singapore has also barred visitors with recent travel history to South Korea, northern Italy or Iran
Is it safe to stay at NuVe Group's hotels?
Definitely! There are currently no cases as well as any known link to previous cases of Coronavirus (COVID-19) at any of our hotels. The management has also checked all the travel history of our staff and found none of our staff traveled to China in the last 3 months.
We also disinfect rooms and communal areas on a daily basis. All our air-conditioners are serviced and cleaned frequently for the comfort of all of guests.
The NuVe Group has implemented additional measures:
– Temperature checking upon arrival for all of our guests as well as daily temperature checking for all of our staff
– Travel history and health declaration form to be filled by up all our guests.
– Hand sanitiser is provided at our lobby for use.
How to protect yourself against Coronavirus (COVID-19)?
Below are some of the steps to protect yourself:
– Wash your hands with soap for 20 seconds often
– Avoid touching your eyes, nose or mouth without washing your hands first
– Avoid close contacts with those who are sick especially if they are sneezing or coughing
Useful information:
[/fusion_b