Explore Bugis like a local when you stay with NuVe Group!
Singapore has long been renowned as a world-class metropolitan offering the best dining, shopping, and entertainment experiences one could imagine. However, such extravagance is often attached to exorbitant price tags. Fortunately, Bugis offers an alternative that is much kinder to our wallets without diminishing the value that epitomizes our little red dot.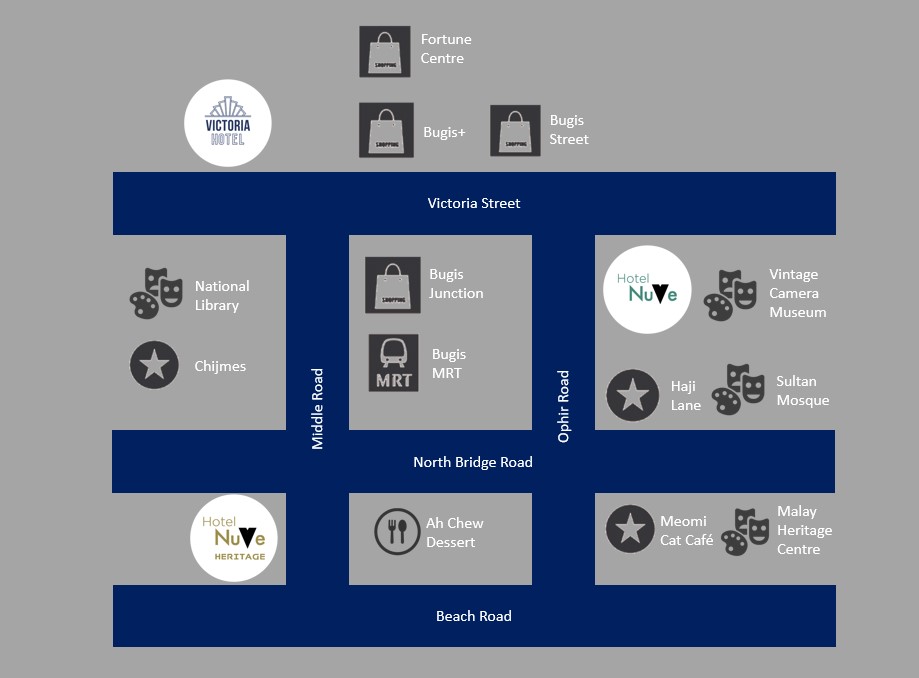 For a more affordable option, Hotel NuVe, Bugis is a 3-star hotel that promises to cover all the necessities one would require of a wanderlust peregrination. This includes a 24-hour concierge and front desk service, free WiFi, a flat-screen TV, coffee and tea-making facilities and more!
Similarly, Victoria Hotel, a NuVe Group Collection is a 3-star tranquil urban oasis that characterises modern luxury and is suitable for even the most discerning of guests. It is newly refurbished and encompasses rooms that provide a rustic yet contemporary aesthetic.
For a more stupendous experience, Hotel NuVe Heritage, City Hall is a lavish 4-star boutique hotel that contains 19 curated rooms. It ostensibly brings together western elegance with a spirited local charm that allows you to truly experience like a local, sleep like a royal.
These hotels are centrally located at the heart of Bugis, providing convenient access to all that Bugis has to offer! If you so choose to venture beyond this lively neighbourhood, Bugis MRT is only a few minutes walk away where you can begin to set forth on your adventure to explore every nook and cranny in Singapore.
Bugis Junction is a contemporary shopping mall that is a part traditional mall and a part open-air shopping district. Conveniently located just above Bugis MRT station, it boasts a diverse mixture of retail options that would entice even the most seasoned shoppers!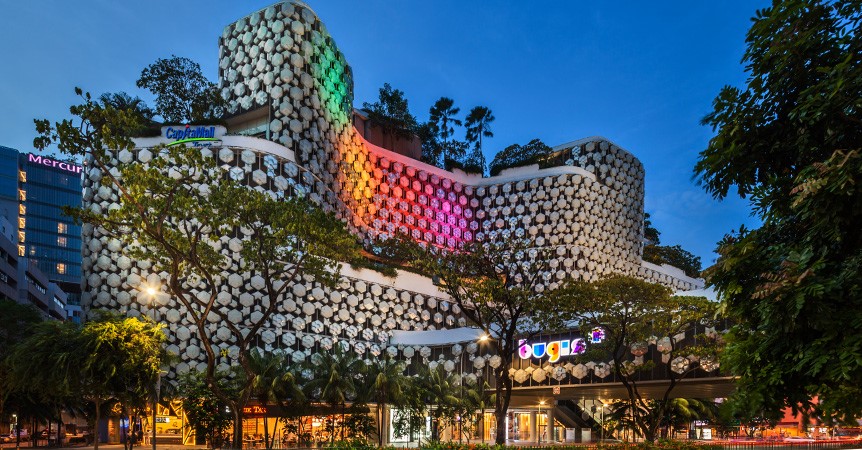 Directly adjacent and connected by an overhead link bridge from Bugis Junction lies Bugis+. It is a sprightly mega-complex that proudly stands 10-storey tall. It contains an endless supply of entertainment, dining and retail options creating an irresistible locale for frolicsome and trendy individuals!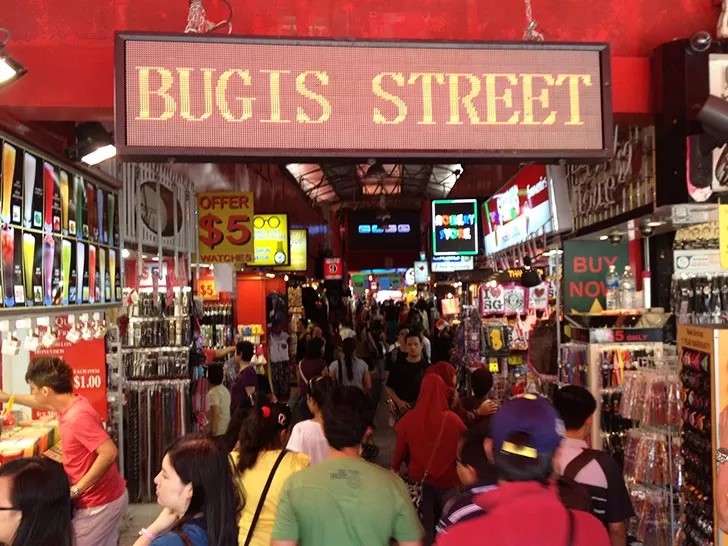 Popular with both locals and tourists, Bugis Street is a shopping paradise well-known for being one of the most affordable places in Singapore for souvenirs, street food, clothes, and cosmetics. The multi-storied market even has a whole area dedicated to beauty salons that range from tattoo make-up artists to nail parlours.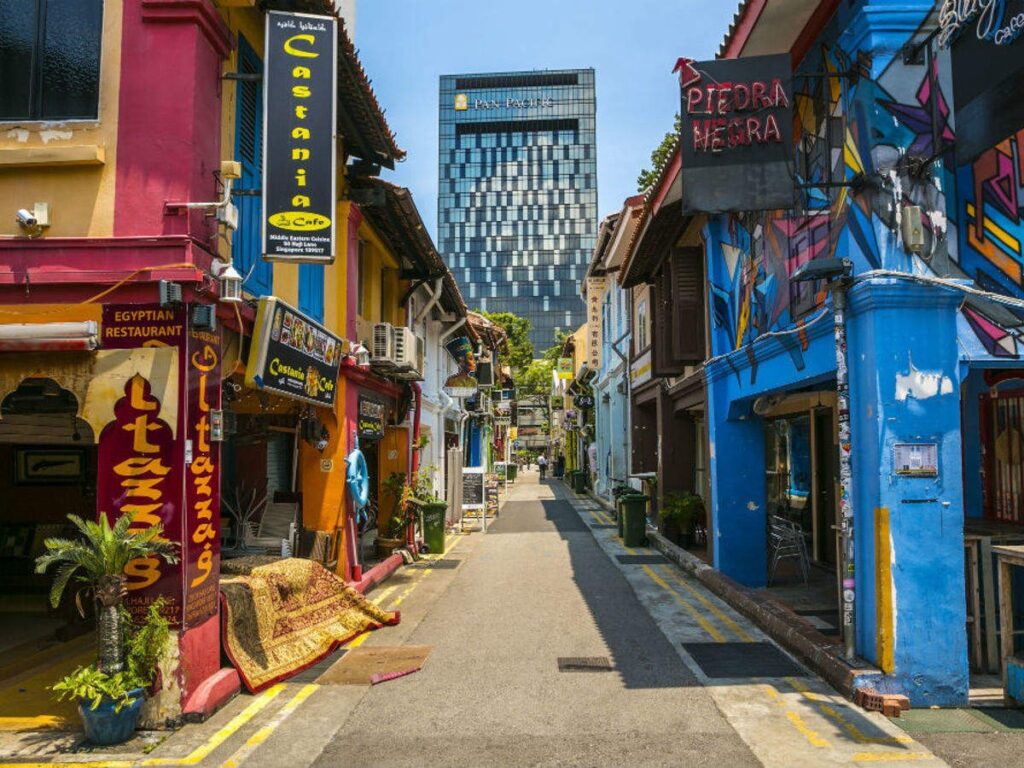 Haji Lane is a collection of narrow streets that are filled with shophouses that were built in the 19 century that has since been rejuvenated and are now homes to quaint little cafes, cool bars, novelty shops and indie boutiques. The walls are adorned with fascinating graffiti from local street artists and serve as flamboyant backdrops for #OOTD shots.
The bars open till late so you can hang out in Bugis just a little longer!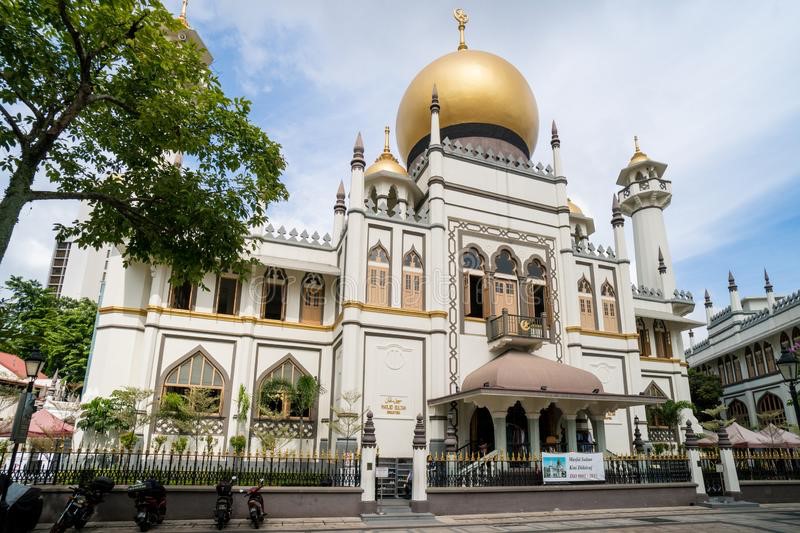 If you are exploring Bugis, you will not miss the the iconic Masjid Sultan Mosque. It is one of Singapore most impressive religious buildings and considered to be a national monument. With its colossal golden domes and massive prayer hall, this majestic grandiosity is a must-see!
Non-Muslim visitors are welcomed inside to find a place near the rear wall to sit quietly and observe the prayers being conducted.
It is free to enter but do take note that you are required to wear a blue robe provided to you at the entrance and the operation periods are from Saturdays to Thursdays between 10AM to 12PM.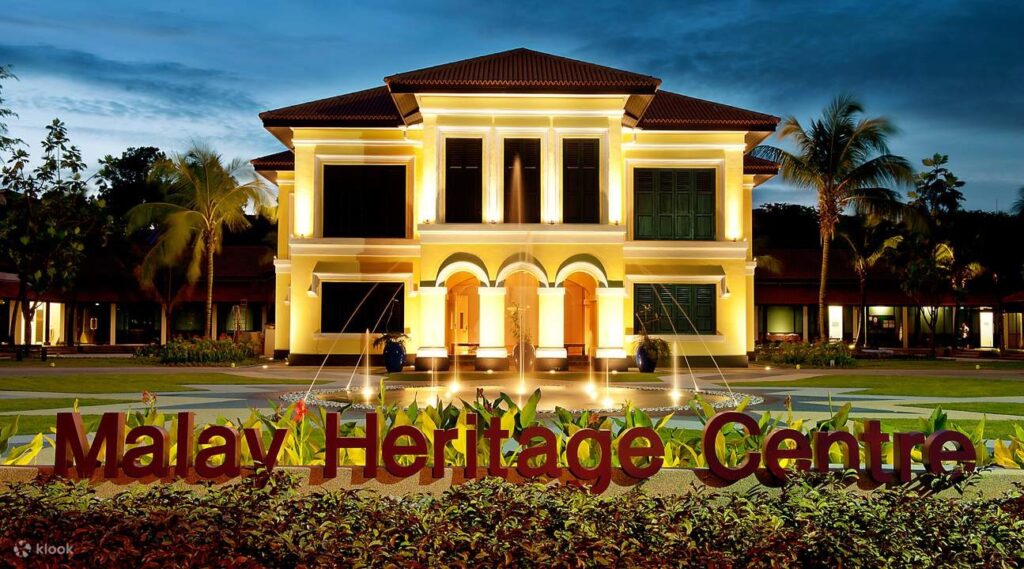 The Malay Heritage Centre is a museum that offers a comprehensive presentation of Malay culture in Singapore, with historical artifacts, interactive multimedia, and vibrant displays from Singapore's national collection as well as community contribution.
It is operative from Tuesday to Sunday between the hours of 10AM to 6PM.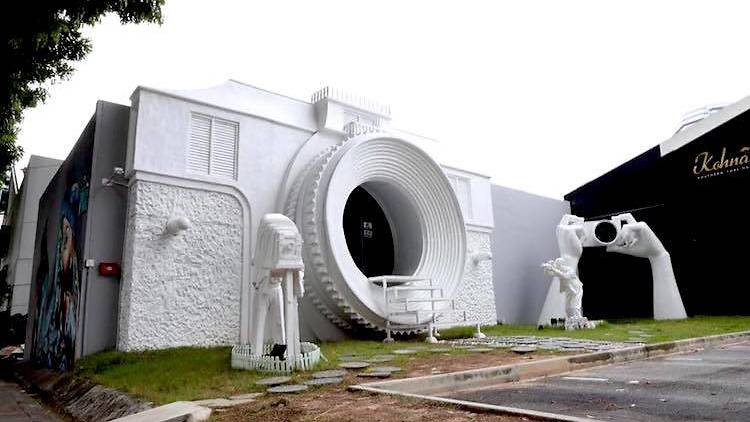 Vintage Camera Museum has an intriguing exterior that replicates that of a camera, providing a peep into the unique and alluring contents that exist within. Around 1,000 various kinds of cameras are kept at the museum, including a replica of the largest camera ever made, an astonishing 11-gram camera, and some of the newest digital cameras available today.
You'll be surprised by the variety of unique cameras available, including spy cameras, walking stick cameras, 3D cameras, gun cameras, and several more novelty cameras. The visitors may even handle and play with some of the cameras. You will be amiss without checking out this fascinating museum!
It opens daily from 11AM to 7PM and entrance fees start from S$15 for kids and senior citizens and S$20 for adults.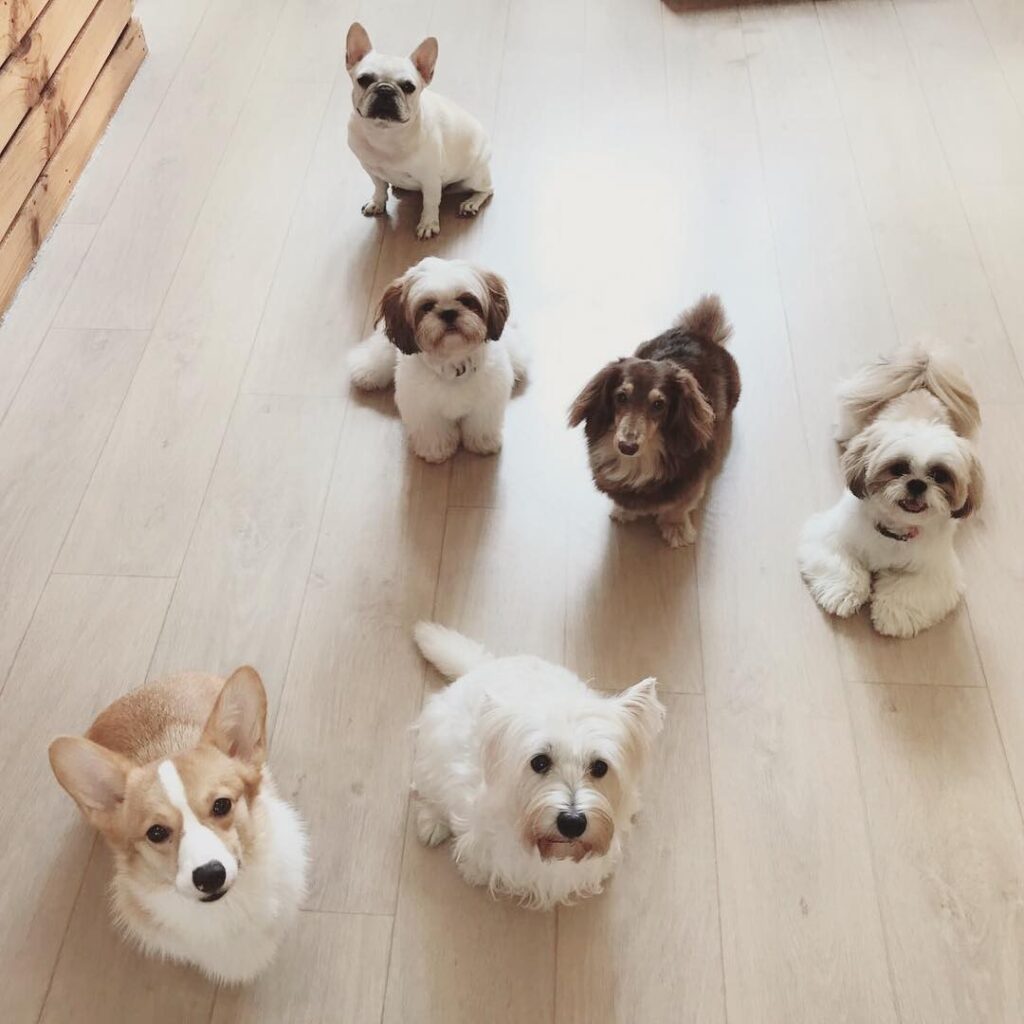 We are the Furballs (WTF) is a dog petting café located at #07-07 Bugis+. These adorably furry little creatures are trained to follow simple commands like "sit" and "paw" and are slyly intelligent, knowing to follow you whenever you visit the counter to get more treats for them! Currently, they house 9 energetic resident doggies of various breeds.
It opens daily from 1PM to 10PM. For a 1.5 hour session, it would cost S9.50 for local students and $10.90 for adults from Mondays to Thursdays. On Fridays, weekends and public holidays, it would cost S$12.50 per person for every 1.5 hours.
Capacity is limited and therefore it is important to make a reservation by calling +6565091186. For the safety of both the dogs and customers, children must be at least 10 years old to enter and be accompanied by an adult – if you're above the age of 13 and above you would not need supervision.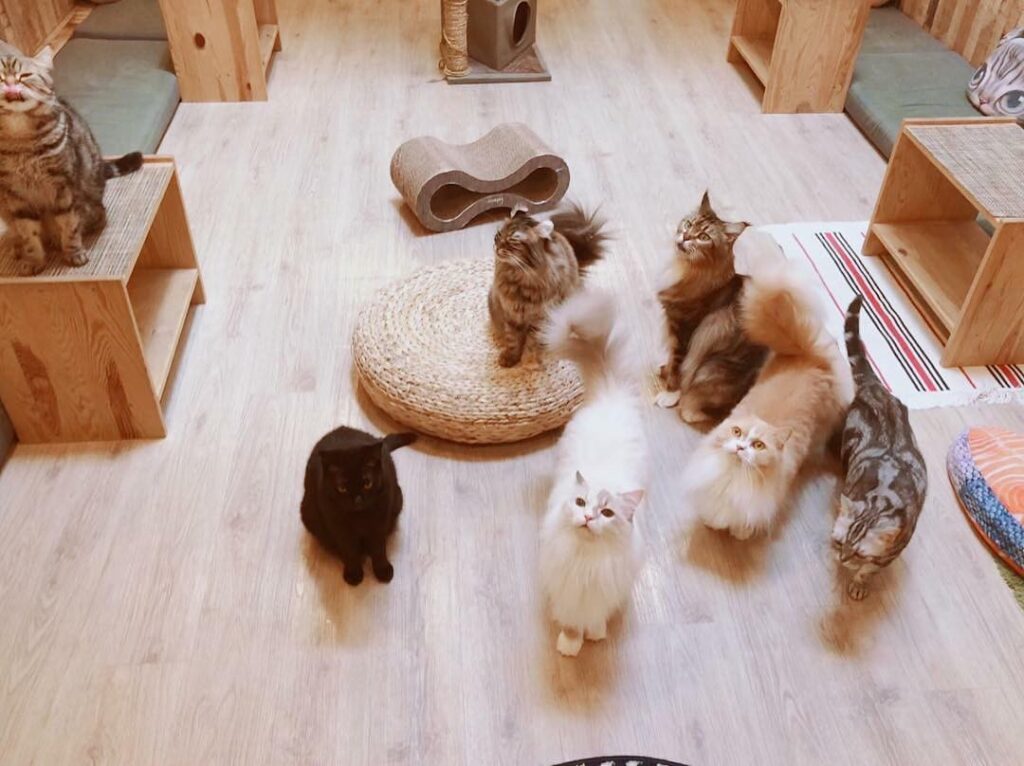 If you fancy yourself more of a cat person, Meomi Cat Café is the go to place, housing seven pedigree kitties including a Ragamuffin, Munchkin and American Curland.
Currently located at 668 North Bridge Road, its opening hours are between 11AM to 9PM daily and a 1.5 hour session cost S9.50 for local students and $10.90 for adults from Mondays to Thursdays. On Fridays, weekends and public holidays, it would cost S$12.50 per person per 1.5 hour.
Reservation is required.
CHIJMES is a neoclassical building that features green lawns, marble waterfalls and courtyards. It is the second oldest structure in Singapore and was originally known as the Convent of the Holy Infant Jesus (CHIJ).
Back then, the institution was an amalgamation of three girls' schools, an orphanage, the nun's apartments and a chapel ran by French Catholic nuns. These days it is known for its bustling food and beverage scene and when night falls it comes alive with bright lights and festive music being patronised by large crowds.
Feeling overwhelmed after a long day of exploring Bugis? Have a rest and indulge at Ah Chew Desserts.
One of the most famous traditional confectioneries, it serves a wide array of saccharine treats from refreshing Mango Sago to comforting sesame paste.
Boutique hotel with outdoor Jacuzzi located 3-min walk from Clarke Quay train station.
Opened in late 2019, Hotel NuVe Elements is NuVe Group's brand new boutique hotel located in the heart of Clarke Quay.
Transformed from a 7-storey restored heritage building into a modern and serene hotel with well-designed rooms and a rooftop terrace with Jacuzzi. Each room category represents a different theme of the elements.
Complimentary In-room Minibar

Certificate of Excellence 2021
Modern hotel located 5-min walk from Bugis train station.
Hotel NuVe is housed in pre-war conservation shop houses and is centrally located in Bugis.
Nestled in the heart of Arab Street, immerse yourself in the rich, colourful multicultural environment of Kampong Glam and experience the bustling daily lives of the locals.
Complimentary In-room Minibar

Recommended on TripAdvisor
Boutique hotel with cafe located 5-min walk from City Hall train station.
Nestled in an all-white heritage building along Purvis Street, Hotel NuVe Heritage features elegant rooms and themed suites.
This 4-star boutique hotel sits quietly in a place packed with famous local eateries and major attractions in Singapore.
Complimentary In-room Minibar

Certificate of Excellence
Boutique hotel with swimming pool & cafe located 5-min walk from Lavender train station.
Hotel NuVe Urbane is a trendy boutique hotel in Singapore, located in the Lavender district and is stone's throw away from Bugis, Lavender and Little India.
Kick back and unwind in your spacious room, indulge in a rejuvenating swim in our swimming pool on the fifth level, or unwind in the inviting cabanas and sun loungers after a day of exploring Singapore.
Complimentary In-room Minibar

Certificate of Excellence
Boutique hotel located 3-min walk from Farrer Park train station.
Hotel NuVe Stellar, Farrer Park is a boutique hotel and is located on Jalan Besar Road, you've got some of the city's best cafes and attractions within minutes of the hotel.
Help yourself to a fully-stocked Complimentary In-Room Minibar in all our rooms which will be replenished daily for the entire duration of your stay.
Rest and relax in style at Hotel NuVe Stellar, Farrer Park!
Complimentary In-room Minibar

Recommended on TripAdvisor
Modern hotel located within minutes from walk from City Hall, Bugis, Bras Basah & Esplanade train stations.
Victoria Hotel, a NuVe Group Collection is a spacious and newly refurbished boutique hotel that is strategically situated in the heart of Singapore's premium art, shopping and dining district.
After a day of adventure and excitement, come home and rest in one of our zen-inspired rooms and let the rustic yet contemporary earth-toned cocoon transport you into a tranquil paradise as you let your tensions and worries melt away.
Complimentary In-room Minibar

Recommended on TripAdvisor
Why stay with us?
Here are some of the reasons why our guests love us!
All our hotels are centrally located in Singapore and is just few minutes walk from train stations and major attractions in Singapore
Average Ratings* for all NuVe Group's hotels from various OTAs
*Rating is calculated based on the average scores of all NuVe Group's hotels on Booking.com & Agoda as of 26 Sep 2019
Benefits for Booking Direct
Best Rate Guarantee
Early Check-in
Late Check-out
Complimentary Breakfast*
Free Room Upgrade*
Free Local Calls
*only available on selected hotels. Please check individual hotels for details.